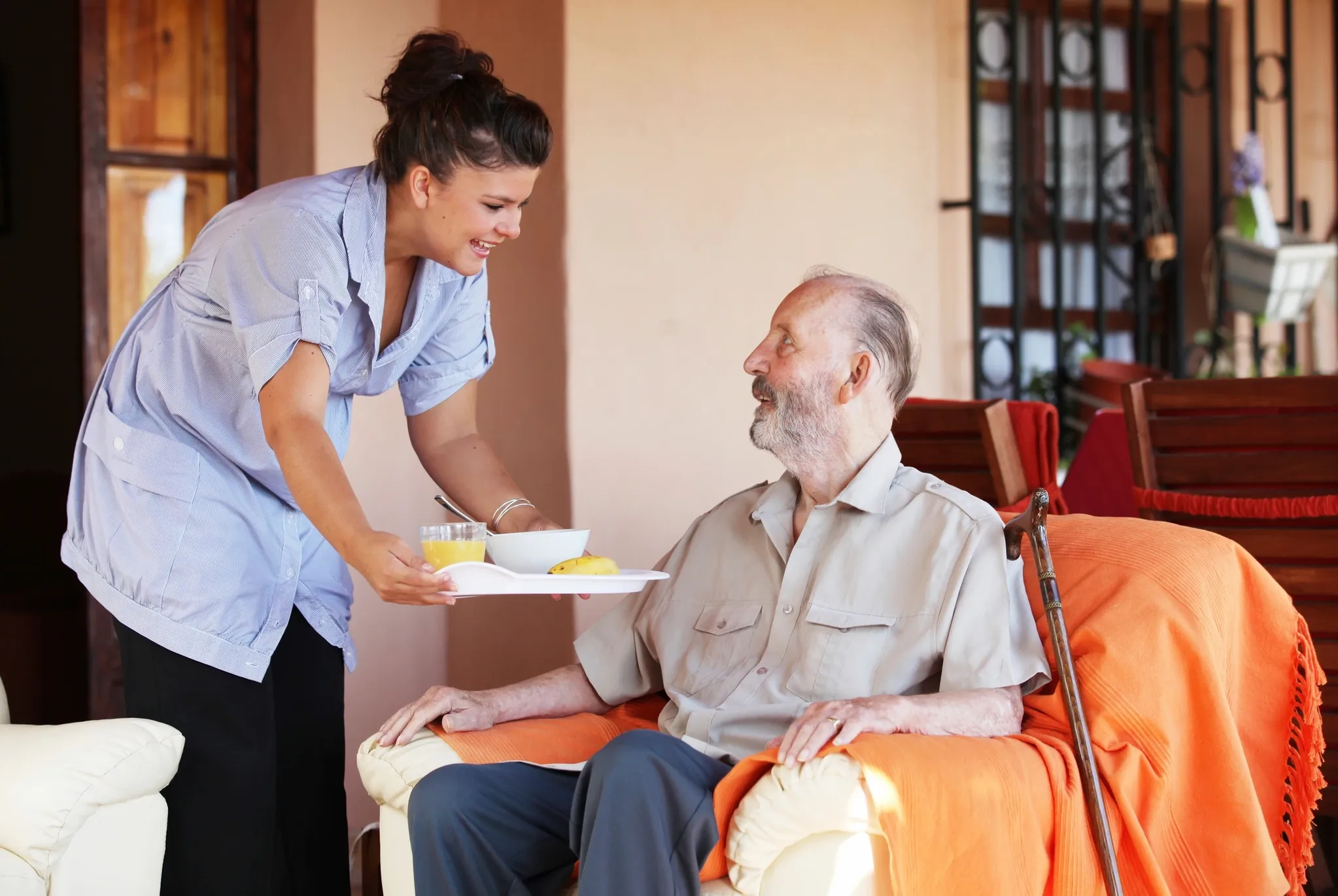 Red Mountain Assisted Living provides all levels of care in a cozy environment. We have been in the business since 1995 when we started providing care for our grandparents. Today, we are proud to offer a team of experienced caregivers who are dedicated and compassionate. Our facility favors residential atmosphere that helps seniors feel comfortable and secure. Our "age in place" approach means that we adapt our services to the ever-changing needs of each resident. Instead of moving to a new facility when their care requirements increase, they can remain here and still receive the attention and services they need. When a senior moves into our facility, they become a part of our family. We provide a positive environment with opportunities to make friends and socialize. Our diverse list of services covers everything from medical needs to daily hygiene and emotional wellness. What can we do for you?
Staff members are available on-site 24-hours every day. That means someone is present and awake in case residents need anything. Our overnight staff does not sleep while on the job. They arrive rested and ready to provide care and support at any time – even in the middle of the night or during the early morning hours.
We also offer around-the-clock care with an on-call registered nurse.
Homecooked meals are provided daily with snacks. Residents enjoy delicious dishes and can see what's coming up on the menu. Family members are welcome to join residents for meals, creating a wonderful opportunity to spend quality time together and make memories.
Special menus are available for residents with dietary needs.
Social Events and Activities
plenty of ways for residents to get to know their neighbors. Our staff organizes events and activities every day. We also plan special celebrations for birthdays and holidays.
An average day at our facility usually includes morning activities around 9 am and afternoon activities between 3 pm and 5 pm. There's always something fun to do at Red Mountain Assisted Living!
Our expert staff provides reliable medication management services to ensure that all residents have what they need to remain healthy. Staying on schedule and taking the correct dose is essential to the effective use of medications.
Residents never have to struggle to open difficult pill bottles or check for timing or dosing requirements. We do it all accurately to prevent under or overdosing or missed doses.
Transportation for Appointments
Transportation is available to get residents to appointments. Let us know where you need to go and when, and we will make arrangements to get you there. Residents can see their preferred medical care providers while staying at Red Mountain.
Family and friends can also come by and pick up residents to go on outings or to events.
Barber and Beautician Services
Everyone should feel beautiful at any age. Red Mountain provides access to barber and beautician services. These come with a small fee and give residents an easy way to get a trim, shave, or whatever they need to look and feel amazing.
Foot care is extremely important, especially for seniors with limited mobility, pain, or health problems. Red Mountain Assisted Living provides access to podiatry services. A podiatrist can perform evaluations, discuss concerns, and administer treatment as needed.
Taking proper care of a person's feet will significantly improve their quality of life.
Red Mountain Senior Care is dedicated to providing the highest quality of care and attention to those suffering from dementia. Our experienced staff understands the unique challenges faced by memory care residents and their families.
As our loved ones approach the end of their lives, we want to do everything we can to make them comfortable. Hospice care provides professional medical and emotional support to help ease the transition for both the patient and their family.
Palliative care focuses on relieving symptoms and providing comfort to those who are terminally ill. It can involve managing pain, anxiety, constipation, nausea, insomnia, fatigue, depression, shortness of breath, and loss of appetite.
At Red Mountain Assisted Living, we understand the challenges and stresses that come with caring for an aging loved one. Our respite care services provide you with a much-needed break, while ensuring that your relative receives the highest level of attention and compassion.
The staff at Red Mountain Assisted Living's nursing home are committed to providing the best care possible for their residents. They help with daily activities like eating, bathing, and moving around, making sure that everyone is as comfortable as possible.
At Red Mountain Assisted Living, we believe that seniors should have the freedom to age in place. We have created a comfortable and home-like atmosphere where caregivers are close by to provide the level of support needed. We adapt our services to meet the individual needs of each person who comes to stay with us.
Red Mountain Assisted Living offers these and other services that cater to the needs of our residents. If you have a special request or require services not listed here, let us know. We can advise you on available care options and how we can address the needs of you or a loved one moving into assisted living.